Rhode Island Medical Imaging (RIMI) is currently in its 30th consecutive year as a Beacon Mutual policyholder and has been extremely successful in keeping its employees safe. RIMI's success is due to its proactive approach and quick response to safety.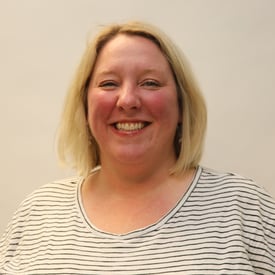 While many might view a "medical office" as having few hazards, the imaging process presents many safety risks such as exposure to radiation and bloodborne pathogens, and the environment may have slip/fall and ergonomic hazards.
When Sara-Anne Poirier, Facility & Safety Manager, joined RIMI at the start of the pandemic, she immediately reached out to Chris Benson, one of Beacon's Senior Loss Prevention Representatives.
"I knew that Beacon was a strong RIMI safety partner," said Poirier. "They have been instrumental in supporting RIMI in Covid-related safety and in our normal day-to-day operations. It is a partnership we value and look forward to building upon."
How has RIMI worked to control its workers' compensation injury rates and cost?
RIMI's success started with its commitment from top leadership to take the necessary steps to ensure the safety of all of its employees, visitors, and patients.
"RIMI is vigilant and responsive in its workplace safety," said Benson. "RIMI's employees see and value that level of care, they are more willing to come forward with potential safety concerns."

Poirier added, "When employees approach us with potential issues, they know we will work to address them. Beacon has been excellent in supporting us and advising us of corrective action so that we can turn around and continue to support our employees and patients."

In addition to addressing reactive safety concerns, RIMI takes a proactive approach to employee safety. Benson has worked with RIMI's management and safety teams on a number of initiatives, including developing processes for monthly site walk-throughs, individual assessments, quarterly safety meetings, purchasing new equipment such as standing desks, assessing workstation layouts, and assisting employees who may be having challenges.
"In my experience, early intervention is the key to keeping employees healthy and productive while containing costs," said Benson. "I applaud RIMI for its proactive and employee-focused approach to safety."
RIMI's Custom Pre-Claim Ergonomic Intervention Process
Another proactive initiative taken on by RIMI was working with Beacon to develop a pre-claim ergonomic intervention process. The process enables employees to request assistance from an ergonomic specialist when they first report any signs or symptoms of injury such as swelling, tingling, or discomfort.
Since 2015, RIMI employee requests yielded a total of 42 on-site ergonomic assessments. The one-on-one assessments resulted in engineering and administrate control suggestions that gave the employees confidence to continue working. Most employees saw a complete withdrawal of symptoms.
This preventative approach not only fosters employee health, but it can also result in direct and indirect workers' compensation claims savings.
It's no wonder that RIMI was named the first outpatient Diagnostic Imaging Center of Excellence (DICOE) in Rhode Island. They not only provide world-class care to their patients but prioritize employee safety as well.
Beacon's Commitment to Safety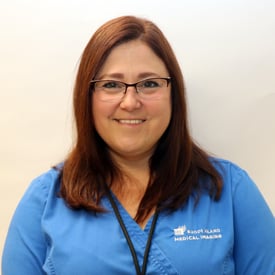 "Beacon is always there to help and always checks back with us to make sure all is well. Kudos to Beacon for helping us keep our employees safe", said Jocelyn Falardeau, RIMI MRI Assistant Manager.
Beacon Mutual is proud to provide loss prevention and ergonomic services at no additional cost to policyholders. With a large team of safety experts from a variety of disciplines, Beacon's Loss Prevention Representatives can provide safety consultations, training, and ergonomic expertise to the medical community from nursing homes and hospitals to social services agencies and medical offices.
About Rhode Island Medical Imaging
For over 75 years Rhode Island Medical Imaging (RIMI) has provided world class care driving innovation, research, and educational excellence. RIMI has a network of 12 private state-of-the-art medical diagnostic imaging facilities staffed by over 80 board certified radiologists with broad-based experience and subspecialty training. RIMI radiologists also perform and interpret imaging for eight Rhode Island hospitals and one Massachusetts hospital.

RIMI is accredited by the American College of Radiology (ACR) including being the first outpatient Diagnostic Imaging Center of Excellence in Rhode Island. RIMI is an ACR Breast Imaging Center of Excellence with two flagship comprehensive centers in Johnston and East Greenwich. RIMI is also a designated ACR Lung Cancer Screening Center. Most of RIMI's radiologists are also faculty members at The Warren Alpert Medical School of Brown University.