Beacon is proud to share a success story featuring our valued policyholder, Newport Shipyard.
About Newport Shipyard: As a yachting destination, Newport is hard to beat. The beautiful harbor, lively regatta circuit, charming town life and central location ensure that "America's sailing capital" lives up to its billing every summer. At the center of the action is Newport Shipyard. With the biggest lifts, cleanest facilities, and the most dock space in town - as well as a full-service yard, ship store, restaurant, crew housing, and fitness center all right on the harbor front - Newport Shipyard has become New England's yachting hub, attracting the best boats on the East Coast.
In 1993, Newport Shipyard became a Beacon Mutual policyholder. This year marks their twenty-fifth anniversary as a Beacon Partner. According to OSHA, "Shipyard work is traditionally hazardous, with an injury-accident rate more than twice that of construction and general industry." Consistent with the industry and many exposures, Newport Shipyard experienced regular work injuries.
Steve Figueiredo, Yard Manager and Electric Shop Supervisor, was instrumental in building the relationship between Beacon and Newport Shipyard. Steve scheduled safety training seminars, walkthroughs, and education sessions with the employees at Newport Shipyard to improve their overall safety knowledge.
In 2016, Newport Shipyard hired a new Facilities Safety Manager, Beck Bennett. Beacon's Loss Prevention Representative, Tim Costa, visited Newport Shipyard to provide consultation on how Newport Shipyard could reduce injuries, protect workers from exposures, and reduce their cost of workers' compensation insurance.
Newport Shipyard took advantage of Beacon's onsite training for their employees. They developed safety standards, purchased safety equipment, and ensured that all staff followed the safety standards consistently. And something amazing happened almost immediately --- Newport Shipyard started seeing fewer injuries at the worksite. Employees embraced the new safety culture. It was clear that their employer cared about them. Integrated training opportunities created greater collaboration with all levels of employees. Productivity and job satisfaction increased.
It is the perfect success story. After just three years, with hard work and the support of Beacon Mutual, Newport Shipyard was able to greatly reduce their losses. By reducing losses, the company has been able to invest in their employees and facility improvements. It is a win-win-win.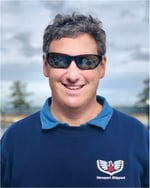 "At Newport Shipyard, the nature of our business requires our team to demonstrate best practices to ensure the safety of our employees, customers, subcontractors, and anyone else who walks onto the property on any given day. Our relationship with Beacon Mutual and Tim Costa, who regularly holds safety seminars onsite, keeps the importance of safety in the forefront of all our minds and teaches us that simple observations and protocol can make a big difference. We value this relationship and will continue to take advantage of the services Beacon offers."
Eli Dana
Newport Shipyard's General Manager
Beacon is proud to provide loss prevention and safety services at no additional cost to policyholders. With a team of a dozen safety experts from a variety of disciplines, Beacon's Loss Prevention Representatives can provide consultations, training, and resources to the marine industry and any other industry in the state.