Beacon Mutual is pleased to announce that we will be replacing mail audits with a convenient online audit process using Zoom Audits. Policyholders can easily complete their premium audit through a secure, simple, and accurate online portal! Policyholders will experience a guided process that is easy to understand and live help is available every step of the way!
What to expect?
When a policy is due for a premium audit, the policyholder will receive a letter in the mail from Zoom Audits which will include instructions on how to complete the audit online. The letter will contain a secure link and a password to log into Zoom Audits and complete the online audit within 30 days. After logging into Zoom Audits the policyholder will answer a few simple questions about the business, and they will be provided with a list of necessary supporting documents. This is the opportunity to provide or correct information so that Beacon Mutual understands the business operations and exposures for the policy.
Get your insurance premium audit started with 3 easy steps!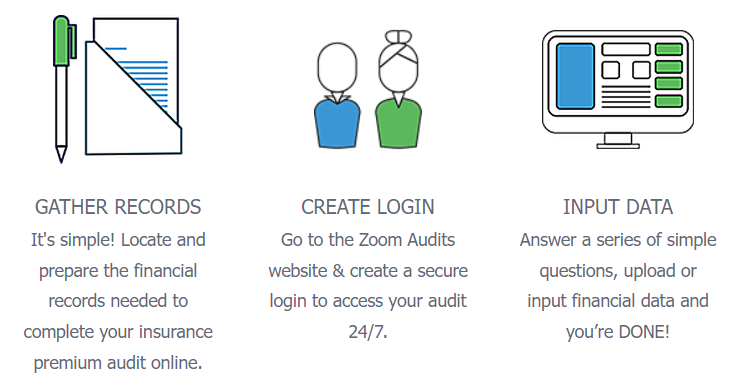 Online audit benefits:
Convenience: Zoom Audits is designed to offer you flexibility and minimal disruption to daily business operations. By automating data entry and engaging with the policyholder, we hope to reduce your process time.
Secure and Robust Data Import: Zoom Audits' data import engine allows the policyholder to import financial records and eliminate data entry time. This will help to improve accuracy and security.
Watch the video below to learn more.


Why Online Audits?
Online audits are intended for small and medium businesses that juggle multiple tasks in their daily operations and who are looking to simplify the audit process.
Have Questions or Need Help?
If at any time, you encounter an issue online, contact Zoom Audits directly. Their outstanding customer service can assist you through the online process.
Call 877.551.9666
Email: info@zoomaudits.com
Fax: 225.372.8675
zoomaudits.com
As always, if you have questions or need guidance, you can contact your insurance agent or Beacon Mutual.

Resources: