Forklifts are essential pieces of equipment used in warehouses, construction sites, and other workplaces. However, they can also be dangerous if not used properly. In fact, forklift accidents are responsible for numerous injuries and forklift fatalities each year. Below is one example as well as forklift safety tips to keep your workplace accident free.
"Matt", a forklift operator at a RI manufacturing plant, was in a hurry to finish his tasks and ignored the proper forklift safety procedures. While driving at a high speed, he collided with a co-worker who was walking nearby, causing both of them to sustain injuries.
"Proper training, equipment inspection, and following safe operating procedures are critical in forklift safety. They are the key forklift safety tips to preventing accidents in the workplace," said Armand Bilodeau, a Beacon Senior Loss Prevention Consultant. "We encourage all employers to prioritize forklift safety and ensure that their forklift operators are well-trained, certified, and equipped with the necessary PPE."
Following the accident, Matt and his co-worker were able to recover, but it was a painful and costly lesson for everyone involved. The incident emphasized the importance of forklift safety and the need for everyone to be responsible for their actions and follow basic safety rules for a positive workplace safety culture.
At Beacon Mutual, we understand the importance of forklift safety.
Here are a few forklift safety tips to help you prevent accidents and injuries in your workplace:
Get trained and certified
According to OSHA, employers are responsible for ensuring that their forklift operators are trained and certified to operate forklifts safely. Employers must provide training that covers all aspects of forklift safety, including how to operate the equipment, how to inspect and maintain it, and how to navigate around pedestrians and other obstacles.
Beacon offers Forklift Operator and Forklift Train-the-Trainer Certification courses for policyholders at no additional cost.
Inspect your forklift before each use
Before operating a forklift, inspect it to ensure that it is in good condition. Check the brakes, steering, tires, and other critical components to make sure they are functioning properly. If you notice any issues, report them to your supervisor, and do not use the forklift until it is repaired.
Always wear appropriate PPE
Personal protective equipment (PPE) can help prevent injuries in the event of an accident. Operators should wear a hard hat, safety shoes, and high-visibility clothing while operating a forklift. Depending on the workplace environment, additional PPE may be necessary, such as gloves or a face shield.
Follow safe operating procedures
When operating a forklift, follow safe procedures such as:
Always wear a seat belt.

Perform a pre-shift safety inspection before using the forklift.

Be sure the load is stable and won't shift while traveling.

Keep body parts inside the truck while in operation.

Stay within the rated load capacity of the truck.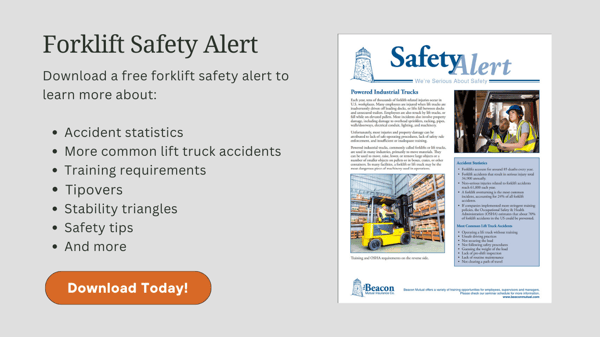 References:
OSHA's Powered Industrial Trucks page
Beacon Mutual's Forklift Safety page


Beacon's Safety Services
Beacon Mutual is proud to provide loss prevention and ergonomic services at no additional cost to policyholders. With a large team of safety experts from various disciplines, Beacon's Loss Prevention Consultants and Ergonomic Specialists will outline the steps needed to establish an effective loss prevention program. Our goal is to help establish a realistic safety process to prevent injuries and accidents, improve employees' attitudes toward safety, and minimize claim costs.