During the month of May, it's essential to highlight OSHA's National Safety Stand-Down to Prevent Falls in Construction. This campaign serves as a reminder to employers and employees in the construction and related industries about the importance of fall protection. Below is just one example.
Jack, a school maintenance worker, was on a roof when he fell through an unguarded skylight. Jack fractured his shoulder. The post-accident investigation revealed that a Job Site Analysis (JSA) was not conducted prior to allowing him access to the roof. Jack was unaware of the skylight as a hazard and there was no warning sign or guard to prevent him from falling.
The Statistics



Falls are the leading cause of construction fatalities and account for one-third of on-the-job injury deaths in the industry.
Each year, over 200 construction workers are killed, and over 10,000 are seriously injured by falls.
Jack's story is a reminder that falls from heights are almost always preventable. OSHA requires employers to provide safe workplaces that are free from known hazards, and that means:
PLAN ahead to get the job done safely.

PROVIDE the proper equipment.

TRAIN everyone to use the equipment safely.
How to Implement a Fall Protection Plan
Wear a harness and always stay connected, ensuring that the harness fits properly.

Use guardrails or lifelines.

Inspect all fall protection equipment before use.

Guard or cover all holes, openings, and skylights.

Ensure surfaces are structurally sound.

Conduct a job safety analysis to identify fall hazards.

Eliminate the need for fall protection whenever possible.

Select a type of fall protection system.

Monitor the fall protection program.

Implement an equipment inspection and maintenance storage program.

Provide fall protection training.

Develop a rescue plan.
Ensure Worker Safety with Fall Prevention
Fall protection is a critical component of workplace safety, and employers must take the necessary steps to ensure the safety of their workers. This National Safety Stand-Down to Prevent Falls is an excellent opportunity for employers and employees to refresh their knowledge of fall protection and take proactive measures to prevent workplace injuries. By implementing a fall prevention plan and the suggestions provided, we can all work together to create a safer workplace for everyone.
Download a Free Fall Protection Safety Alert
Plan ahead and implement a Personal Fall Arrest System to protect workers and prevent injuries from falls. Learn how to prevent falls and provide the proper equipment. This safety alert includes information about the Personal Fall Arrest System and includes an eight-step approach.
Download this safety alert in English or Spanish for more information about fall protection.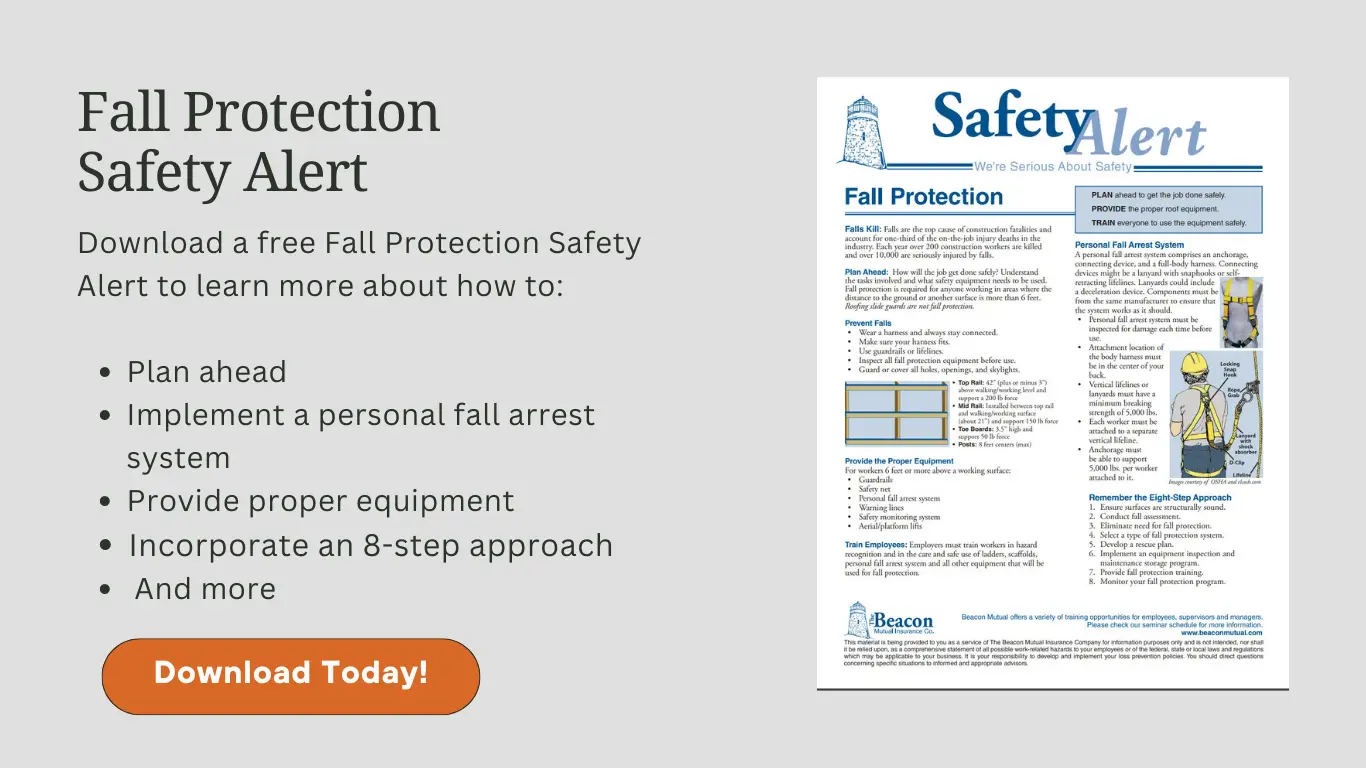 Beacon's Safety Services
Beacon Mutual is proud to provide loss prevention and ergonomic services at no additional cost to policyholders. With a large team of safety experts from various disciplines, Beacon's Loss Prevention Consultants and Ergonomic Specialists will outline the steps needed to establish an effective loss prevention program. Our goal is to help establish a realistic safety process to prevent injuries and accidents, improve employees' attitudes toward safety, and minimize claim costs.