The National Safety Council (NCS) recognized Beacon Mutual's valuable contributions in advancing the NSC shared mission of saving lives by presenting Beacon with the 2019 Excellence in Driver Safety Training Award.
National Safety Council Presents Excellence in Driver Safety Training Award
Every year the NSC Defensive Driving Team recognizes the top chapters for their contributions for most new instructors trained, top training centers for most drivers trained along with Instructor of the Year, and Commitment to Driver Safety Excellence awards across all our defensive driving programs.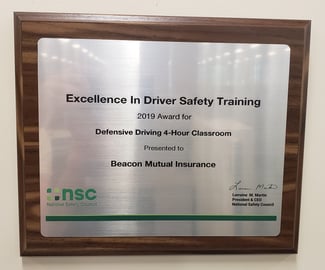 "Traffic crashes are the number one cause of death in the workplace. Properly using all of the safety equipment in your vehicle, along with driving safely could save your life. That's why Beacon is committed to providing our policyholders driver safety training to protect them on and off the job," said David Blair, Vice President of Claims and Loss Prevention at Beacon Mutual.
For a listing of all 2019 award winners, visit the National Safety Council website: https://www.nsc.org/road-safety/get-involved/ddc-awardsThe NCS thanked Beacon Mutual for the valuable contributions made in advancing their shared mission to save lives, from the workplace to anyplace. The National Safety Council trains more than 1 million drivers each year with its defensive driving programs. Everyone plays a vital role in advancing the National Safety Council's mission toward the progress on the road to zero deaths.
---
More Driver Safety Resources:
Beacon Mutual provides additional information on Motor Vehicle Safety. Visit the Safety Library or Online University to learn more.