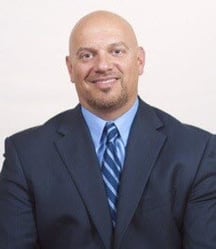 WARWICK – 6/19/20 – William (Billy) Gross has been named the Vice President of Underwriting and Premium Audit at The Beacon Mutual Insurance Company. In this role, Gross will lead the underwriting division of Beacon with responsibility to develop agent partnerships, oversee the planning and execution of all agency activities and initiatives, and expand Beacon's products and services to meet the needs of policyholders and insurance agents. In addition, Gross will lead the premium audit function at Beacon to ensure premiums charged are based upon accurate payrolls and exposure. As a member of Beacon's Senior Management Team, he will provide his leadership in corporate strategic planning and project governance.
Gross joins Beacon having more than twenty years of experience in the property and casualty insurance industry with both national property and casualty insurance carriers and a regional insurance agency. Prior to joining Beacon, he served as Executive Vice President at Eastern Insurance Group where he managed underwriting, sales, operations, marketing, claims, and customer service disciplines, forcing synergies and accountability from end-to-end. Before joining Eastern Insurance, Gross spent eight years at Hanover Insurance in various commercial line leadership roles where he excelled by developing effective sales and marketing strategies focused on small, middle, and specialty markets. He also spent nearly a decade at The Hartford where he was successful in driving growth through cross-selling, new markets, and profit management.
Gross also brings a unique competitive edge to Beacon with his experience as a former professional baseball player and college baseball coach.
Gross holds a Bachelor of Science in Management and Marketing from Slippery Rock University of Pennsylvania and a Master of Business Administration from the University of Hartford.
"I am excited to be joining the leadership team of a solid financial institution with a customer-centric culture," said Gross. "I am impressed with the talent and dedication of Beacon's employees who are committed to innovation and forward-thinking. I am also truly excited to join an organization that is continuously active in the Rhode Island community. I am looking forward to contributing and helping Beacon achieve its short and long term objectives."