At Beacon Mutual, a strong commitment to social responsibility is deeply ingrained in our core values. We believe in giving back to the local community that has supported us for the past 30 years. This year, we organized an Employee Week of Service, allowing our employees to choose from seven local charities aligned with our mission, vision, and values. Beacon's core values include — Commit To Care, Embrace Inclusion, Explore Possible, Do The Right Thing, Be Remarkable, and Impact Our Community. It was an incredible opportunity for our team to make a positive impact and contribute to causes that matter.
Watch this video to see our week of service in action!
Let's take a closer look at the charities Beacon supported and the volunteer projects our employees engaged in:
Explore Possible - East Greenwich Animal Protection League (EGAPL)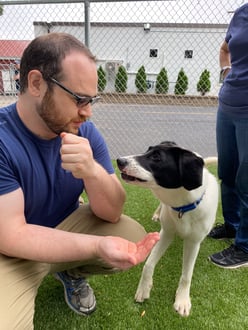 EGAPL is a non-profit shelter dedicated to rescuing, caring for, and finding forever homes for companion animals. Our volunteers assisted the EGAPL staff with various cleaning projects, both indoors and outdoors. From putting together new shelving for dog food to disinfecting the outdoor play area, our employees showed their dedication to creating humane communities and supporting the well-being of animals.
"While we worked hard cleaning the cat room, doing dishes and laundry to support the kennel staff, we also had the opportunity to play with some of the adoptable dogs outside which was not only enjoyable for the volunteers but also provided socialization opportunities for some of the more shy dogs currently available for adoption. The best story coming from the day is that one of our volunteers actually went back to the shelter later that week and adopted one of the dogs who had been one of the longest residents and looking for his forever home since January, " said Donna Normand, Beacon Claims Director.
Be Remarkable - Ronald McDonald House of Providence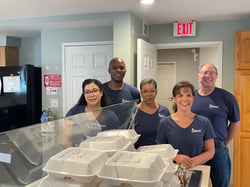 The Ronald McDonald House of Providence has been a pillar of support for hospitalized children and their families. Our team members prepared and packaged a balanced dinner for a group of 15-20 people. By volunteering their time and providing families with a sense of normalcy during medical crises, our employees demonstrated their commitment to doing the right thing and supporting the well-being of the community.
"We were really excited to help the children and families of the Ronald MacDonald House. It was really touching to see the effort and care the team put into every detail while we prepared the meal. Our hope is that the families find comfort and relief in a homed cooked meal during difficult times," said Anny Familia, Beacon Claims Specialist II.
Do the Right Thing - We Share Hope and Hope Market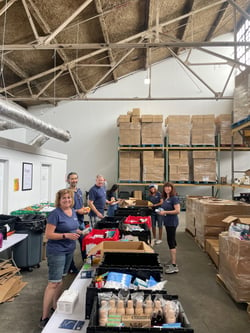 We Share Hope and Hope Market strives to provide food and other necessities to those in need. Our volunteers sorted summer food donations, checked expiration dates, and bagged produce. By contributing to these initiatives, our employees ensured that vulnerable individuals in our community had access to essential resources.
"We Share Hope is one of the leading food rescue organizations in RI and that was evident with the continuous line out the door when the market opened its doors for the day! We started our day at 9 am checking expiration dates and sorting through food and other necessities that were donated. The items we sorted were immediately stocked on the shelves in the market in preparation for the doors to open at noon. Patrons of We Share Hope have the option to "fill a bag" with a variety of different items for $5 and it is estimated each bag would cost approximately $40-50 in a retail store. This conservatively allows patrons to buy 8 times as many necessities as they would have without We Share Hope! They are also trying to extend their helping hand and as we were leaving had us each fill a bag with necessities to keep in our car for the next time we came across a person in need. While it was hard work and we definitely worked up a sweat, we also had some fun too! We sampled some of the more interesting products that were donated such as flavored seaweed snacks with the other volunteers and had some laughs. We ended our day around 1 pm and from about 11 am (an hour BEFORE the market even opened) until we left there was a line out the door showing just how valuable the work We Share Hope does," said Tiffany Manchester, Beacon FP&A Team Lead
Do the Right Thing - Gotta Have Sole Foundation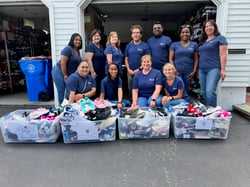 Gotta Have Sole Foundation focuses on donating new shoes to vulnerable children across America. Our company-wide youth sneaker drive collected over 60 pairs of sneakers and a team of employees delivered the shoes to GHS facilities. Sorting the shoes by size, fulfilling orders, and creating personalized greeting cards showcased our commitment to empowering youth leaders and making a difference in children's lives.
"Beacon employees collected close to 60 pairs of newly purchased sneakers during our sneaker drive leading up to the 2nd annual week of service. For our service day, our team worked together and fulfilled close to 130 sneaker orders for 4 local charitable organizations that partner with Gotta Have Sole to provide sneakers to children in need. That included attached sneaker images that were decorated by local students and personalized notes from us to add to each order. The GHS Leaders were so very grateful for everyone who donated and helped to impact the lives of the children that they serve," said Shanna Ferguson, Beaon HR Generalist."
Embrace Inclusion - The Groden Network
The Groden Network provides support to individuals of all ages on the autism spectrum. Our volunteers participated in a range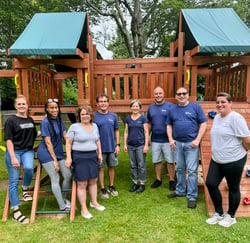 of upkeep and assembly projects at the Groden Center, including painting and equipment assembly. By embracing inclusion, our employees demonstrated their dedication to creating an inclusive environment for individuals with autism.
"It was an honor and a pleasure to have participated in this painting event along with Billy Gross, Jeff Chuey, Michael Elias, Shanna Ferguson, and Jack Judge. During our time, we had the opportunity to learn about the Groden Center and its commitment to the many families that they personally serve. Thank you, TEAM BEACON, for helping our policyholders in such a fun and meaningful way," said Gail Connolly, Beacon Loss Prevention Manager.
Impact Our Community - Amenity Aid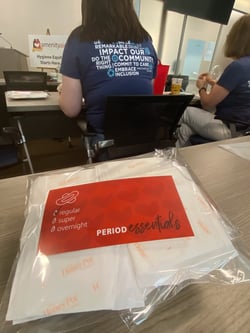 Amenity Aid's mission is to improve the health and well-being of vulnerable populations by creating access to essential hygiene products. Our volunteers assembled packages of feminine hygiene products to be distributed across the state. Building on the success of the previous year, we aimed to exceed our impact and provide support to more organizations and individuals in need.

"It was a humbling and rewarding experience volunteering with my fellow Beacon Mutual colleagues to support Amenity Aid's mission of making sure that no adult or child has to choose between food and hygiene products. No woman should have a challenge in accessing these essential items. Being part of this initiative reminded me of the power of collective action and how a small act of kindness can make a significant impact on someone's life," said Tessa Tavares Costa, Beacon CX and Content Marketer.
Commit to Care - Rhode Island Tree Council
The Rhode Island Tree Council works to enhance Rhode Island's tree resources and educate citizens about urban forestry.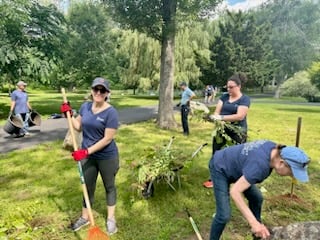 While we couldn't dedicate a full day to this cause, our commitment to caring for the environment and building vibrant urban forests remained strong. Our employees engaged in smaller projects to support RITree's mission.
"The experience with the RI tree council was both an opportunity to impact our community and the environment and also an amazing educational experience for the volunteers. We not only helped improve and maintain a beautiful tree grove of over 120 different species of trees through mulching, weeding, and pruning, but we also learned about how to maintain and improve the trees in our own neighborhoods. The tree council is a tremendous resource for anyone who is looking to become a tree steward by planting one tree in their yard or a whole grove to help improve and maintain Rhode Island's tree cover," said Reid Willett, Beacon Sr. Business Solution Architect.
Beacon is Committed to Making a Difference in Our Local Community
Beacon Mutual's Employee Week of Service showcased the power of collective action and demonstrated our commitment to making a difference in the community. By aligning our volunteer projects with our core values, we were able to create a significant impact across various causes. We are proud of our employee engagement, dedication, and commitment to social responsibility. As a company, we will continue to support and contribute to initiatives that align with our mission and values, fostering a culture of compassion, and community engagement, and making a lasting positive impact on the lives of those in need. Together, we can create a brighter future for our local community and inspire others to join us in our commitment to service and social responsibility.