Update April 1, 2020: Restricted Visitors. In light of the situation regarding COVID-19, please note that effective 4/1/2020, access to the building will be restricted to essential employees and vendors only.
Constables who need to serve subpoenas, please contact Mike Lynch: 401-825-2702 or mlynch@beaconmutual.com
Update March 26, 2020: Reduce Mail to the Beacon Office. Although we are processing daily mail on a limited basis as we work remotely, we would appreciate your cooperation in reducing the mail sent to us at our offices to assist in a more timely response to your communications. To help maintain our services for you, please use alternative methods to communicate with us. We are here to support you. Please refer to these other communication methods: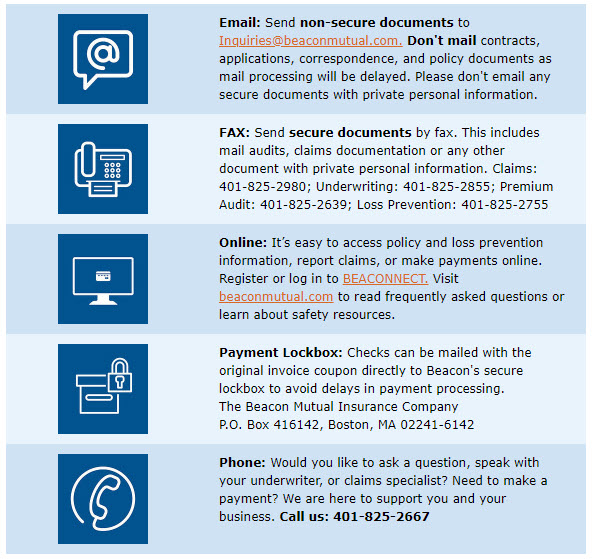 March 13, 2020: Beacon Mutual Directs Employees to Telecommute.
Warwick, R.I. – Beacon Mutual Insurance Company announced today that effective Monday, March 16, employees will work from home in response to growing public health concerns and will be activating its Business Continuity Plan. Beacon is adequately prepared with systems in place to work remotely and it is expected that Beacon will conduct its business as usual. Policyholder, agent and injured worker services will continue as usual and all employees may be reached at their extensions which will be remotely answered.
"At Beacon, we are serious about safety. We are dedicated to the safety of our policyholders and their employees, our agent partners, clients, neighbors, and our own employees and their families," said Beacon Mutual President & CEO Brian J. Spero. "That is why we are taking a proactive, protective approach to our business to minimize possible exposure and promote social distance for the best interests of all involved. While there has been no known exposure to the coronavirus at Beacon, it is prudent to be proactive based upon what we have learned about how this illness spreads."
Limited services will still be provided at the Beacon facility in Warwick. However, meetings scheduled with external vendors, policyholders, or agents will take place by teleconference. In addition, Beacon is canceling Open Safety Seminars through April 6 with plans to reevaluate the safety of resuming seminars over the coming weeks. Beacon Mutual requests that its customers, partners, and vendors reduce visits whenever possible.
To manage the need for visits to Beacon's office, customers and agents are advised to take advantage of Beacon's secure online portal BEACONNECT to report an injury, make online payments, or access policy documents. Representatives will also be available by phone to provide assistance with insurance policy, payments, or any other questions.
For answers to frequently asked questions on how to prepare for potential infection from the respiratory virus known as Coronavirus 2019 (COVID-19) and how it relates to workers' compensation insurance, visit Beacon's News & Insights page.