The Beacon Mutual Insurance Company was recognized with a 2020 Exemplary Worksite Health Award from Blue Cross & Blue Shield of Rhode Island (BCBSRI) and the Greater Providence Chamber of Commerce (the Chamber) for effective quality programs encouraging employee and workplace wellness.
"At Beacon Mutual, we're committed to promoting a culture of well-being and health for all of our employees. 2020 was certainly one of the more challenging years to deliver on our promises, but our Senior Leaders, Human Resources Team and Wellness Committee all worked tirelessly to continue to offer our employees a healthy work-life balance including time for self and family care, excellent benefits, challenging assignments and projects, and the opportunity to make a difference," said Pam Alarie, Vice President of Human Resources at Beacon Mutual.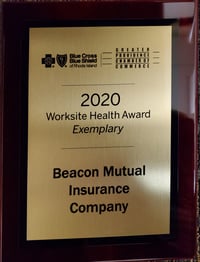 The Beacon Mutual Insurance Company was one of nearly forty Rhode Island businesses honored by BCBSRI and the Chamber with a Worksite Health Award. The award celebrates local businesses who have demonstrated a commitment to improving Rhode Islanders' overall health through innovative wellness programs, as companies and as individuals. In a virtual meeting, Melissa Cummings from BCBSRI and Laurie White from the Chamber came together to celebrate the winners. Winners are normally presented their awards at a celebratory breakfast, but due to the COVID-19 pandemic the award celebration was virtual this year.
"To highlight how companies have gone above and beyond, one of the things we did newly this year was add a special category to our awards application acknowledging the COVID-19 pandemic, and I was so impressed with the steps companies have taken to keep employees safe and engaged," said Cummings, Executive Vice President and Chief Customer Officer of BCBSRI. "Each company has shown that focusing on well-being is a win for your employees and for your business. And because helping Rhode Island is what we live for at Blue Cross, we're making a $10,000 donation to the United Way Covid Relief fund in honor of all the worksite wellness winners."
Laurie White, President of the Greater Providence Chamber of Commerce said, "Worksite wellness is a win-win for everybody, particularly during these difficult times. Focusing on our mental health, our emotional health, and our physical health is something that we all have personal responsibility for."
Read more about Beacon benefits and our Beacon's Total Rewards Program, which make Beacon a great place to work!